Melissa – Researcher With Attitude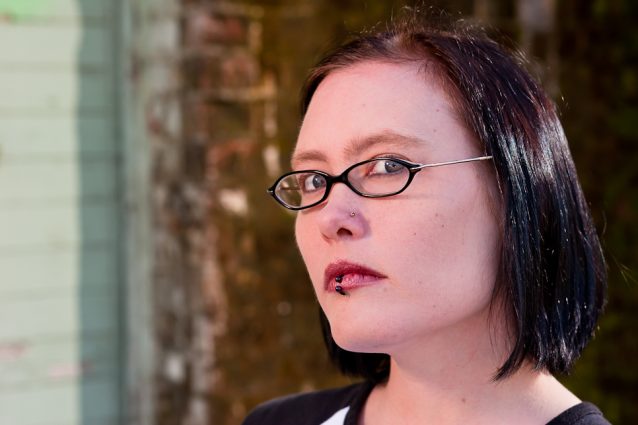 Two Sundays ago, my friend Veronica and I had arranged a "team photoshoot" with a model she found online.  We set up a meet, and a theme (sorta), and sadly, there was a communications issue, and the shoot never happened.  Oh well, at least we got our Starbucks, right?
After hanging out with V for a while, I went over to my friend Melissa's house, since we haven't hung out in a while.  After being silly for a while, I suggested that we finally get around to doing a photoshoot, like we've been talking about for months.  Luckily, she was totally down.
She got dressed (thought fuzzy pajamas might not be all that great, while it would be funny!), got ready, and we rolled on over to some abandoned industrial buildings literally a block or two away from her house.  I've shot there before, although it was at night for Halloween.  I thought it'd be a lot of fun to bring her out there and make some fun photos.
Melissa is an absolute blast to hang out with, and that extends to shooting with her.  She's a tiny little thing at around, I don't know, 4'7″?  Maybe?  But she's explosive, and has more energy and craziness than almost anyone else I know.  And she just.  Doesn't.  Give.  A fuck.  So she'll do pretty much anything, and then some–just ridiculously great!  We made some really fun images, and had a great fun time!
Lighting on this is pretty basic.  Key light is a 1/4 or 1/2 CTO'd LP160 at about 1/8 or 1/16th power (as you can tell, I'm a stickler for remembering details hehe) through a LumoPro SB-III softbox at camera left.  Separation light is opposite the key, a bare LP160 at around 1/4 or 1/8th power, slaved off of the key, which is triggered with a Cactus v5 wireless trigger.
Interesting other bit of lighting geekery, I've ordered a GamiLight Square 43 softbox from MPEX.  Also threw a third LP160 in the order, since I needed a third light.  I'm really looking forward to testing out this softbox, I've heard and seen some really cool stuff about it, so I'm stoked.  Anyone looking for a shoot so I can test it out?  Hit me up!