Matt and the Shades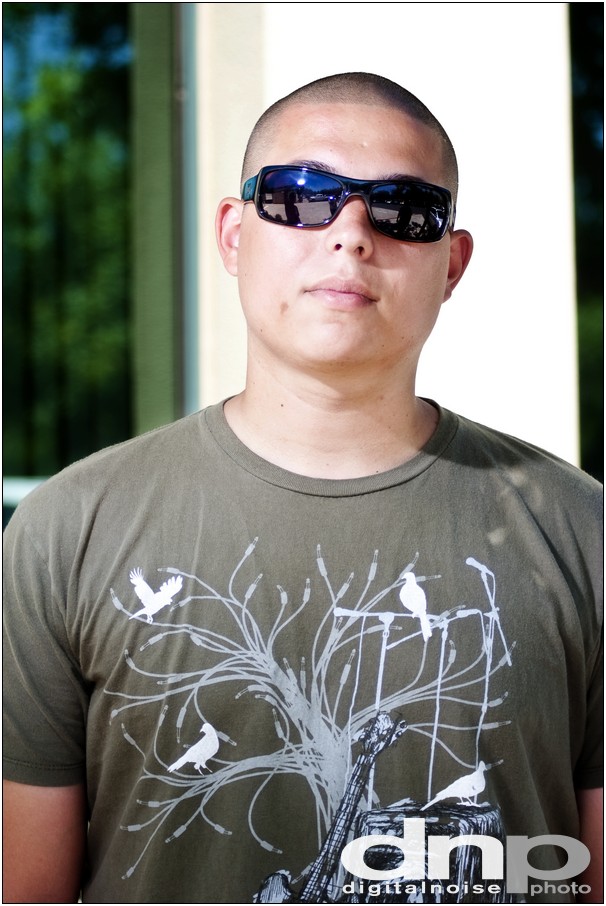 Last night I began playing with my flash unit, trying to get the feel for some strobist-style lighting.  I have a cheapo Phoenix D92-BZS digital slave flash that I bought when I was using my Finepix S3100 as my main camera.  Now that I have my 20D, I finally have a hotshoe so I can use it like a grown-up flash (lulz!).  However, as nice as it is for shots at a children's birthday party and blinding people at random (lulz again at Steve), on-camera flash is still on-camera flash.
So I decided to play around with my flash on an optical slave setup, my 20D dialed down so it's flash was super weak, and use the Phoenix as much as it will put out for.  The Phoenix is not that bright (guide number 92 @ 50mm, as opposed to mynext flash, the Vivitar 285 which is 107 or so), but it works alright.  It should be better once I get my set of cheap Cactus v4 wireless triggers too.  Yeah, I'm broke, but hey, these things happen.
So here's a picture of my coworker and friend, Matt.  Mat, in addition to being a damn good tech, is also a damned good cartoonist.  Check out his awesome memorial to Billy Mays done on his cubicle whiteboard.
Got a few others, and another coworker, Sean, but those will be for another day.
Strobist info:  Shot at 1/250 @ f/4, ISO 100, onboard flash -2, Phoenix D92-BZS held by Sean camera left 45-degrees aimed downward about 2 ft from Matt.  Final image tweaked in Photoshop