Eagle Lake, Tahoe National Forest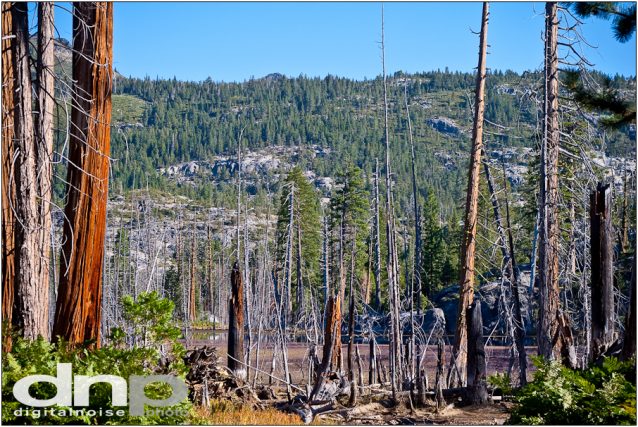 Last weekend, my wife and I went backpacking for an overnight trip at Eagle Lake, in the south Tahoe National Forest.  It was a crazy four-plus mile hike in on what was supposed to be a "beginner" trail.  Beginner my ass.  Whoever wrote about the trail and said "small children and healthy elderly can do this no problem" either is high on psychotropics, or is surrounded by people from Krypton.
Either way, we made the crazy hike in, set up camp, had a nice relaxing evening recouping from severe exhaustion hehe, and then dreaded the next day when we had to pack up and head back up the crazy steep trails.
All in all though, it was fun, and once again have been reminded of the fact that I really don't excel at nature/landscape photography.  Like, at all.  But, I had to post at least one photo from the trip, this being the best out of the bunch that I don't plan on making HDRs out of later.  Maybe I'll post those too.
Oh, and we took our dog, Pugsley, too.  He was definitely more than a handful, but he had fun.  Got dirty as can be, but had fun.  I'm sure I'll post some rather funny pics of him later on in the week.