Hella Metal Fest 2011!!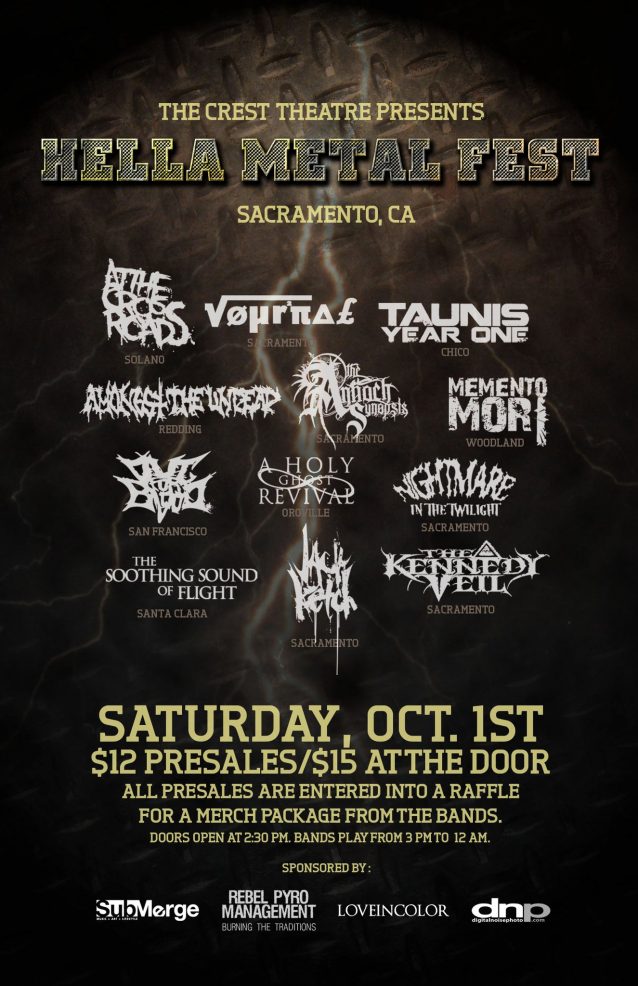 Saturday, October 1st 2011, Crest Theater:  Hella Metal Fest 2011 (Facebook Event page).  You.  Will.  Go.
Richard Kokoletsos of the band Memento Mori has been busy organizing one hell of a local metal festival.  A few months ago when the festival was announced in its formative stages, I expressed that I wanted to take part of the event somehow.  We worked out an arrangement, and I'll be shooting the show in its entirety as an event sponsor (check the flyer!)
Tickets:
$12 presale/$15 at the door
Here's the roster for the show at this point:
A Holy Ghost Revival
…Amongst the Undead
At the Crossroads
Jack Ketch
Journal
Memento Mori
Nightmare in the Twilight
Out for Blood.
Taunis Year One
The Antioch Synopsis
The Kennedy Veil
The Soothing Sound of Flight
The sponsors are:
LoveinColor
digitalnoise|photo (yours truly!)
Rebel Pyro Management
SubMerge Magazine
This show is going to be a doozy, if you're into metal and some great live bands, you cannot beat this bill.  Add this to your calendar, say Yes to the Facebook Event page, whatever you have to do, come out to this show and say hi.  This will be an epic night of face-melting metal, so don't miss it!