What A Deal!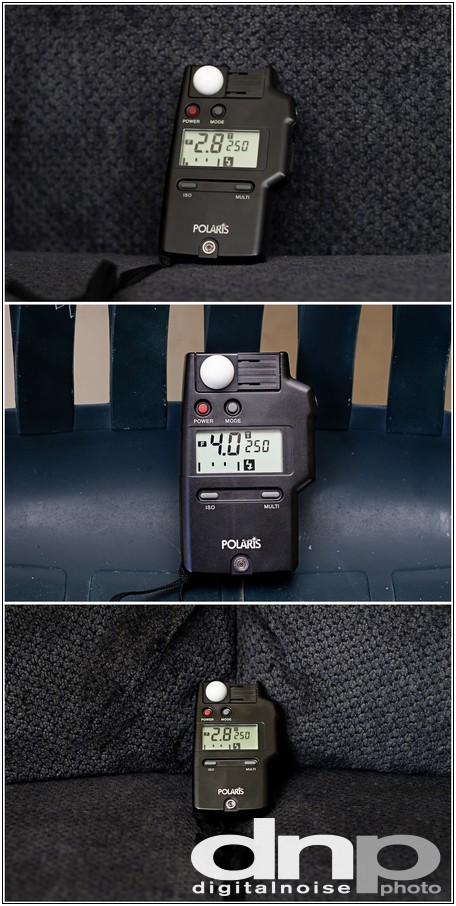 So after getting off work on Wednesday, I hit up the Ritz Camera on Sunrise in the Birdcage Center, and of course as is expected with a business that's liquidating all of their stuff due to closing, they didn't have much to offer at this point.  About a week or two from closing, most of the good stuff was gone.  I did manage to score an oldschool iogear CF reader for a dollar (I kid you not) and a Kodak CF reader for fifty cents (although it transfers so slow, I actually regret wasting half a dollar on it–oh well, it'll be a "My camera battery's dead and I'm not home" backup for emergencies).  At least the iogear reader's fast-ish.
The real score, however, was this Polaris Flash Meter.  Ritz had it retailed at $300, got marked down to the hundred-something mark, and then down again to like $90.  One more markdown showed it at around $40.  So, against my better judgement, I passed until I got paid, talked to my wife about it, who was pretty shocked I didn't just buy it and made it a point that I should at that value.
Went back Friday (Thursday I was busy and in Davis), and it wasn't in the old spot, freaking me out.  Luckily it was one shelf higher.  Whew!!  Happily I told the lady working that I wanted that meter, and she promptly replied with "Oohhhh, the guys are gonna' be mad at you!" and laughed.  Eh, two days, no one bought it, their loss.
So now I find myself in posession of a reportedly pretty accurate light meter that does both incident and reflective metering, flash both wireless and wired, and multiflash modes.  Not that I'll use most of it now, but I'm learning to make use of it as much as possible.  Never used one before, and could never afford one at over $300 hehe.  B&H Photo lists the Polaris Flash Meter at about $179.  Still not bad at all.
As it is now, Ritz is pretty much cleared out of ALL the good stuff.  Canon gear?  Nonexistant.  Nikon?  Eh, a lens or two.  Some Quantaray and Sunpak flashes, and some pretty weaksauce flash units for all systems, but they're CHEAP.  Also, apparently the one in Elk Grove has a STACK of K10D grips.  WTF, seriously!
And of course, all that they really have are frames, paper, ink, tchochkes, shitty one-dollar webcams, and some PS2/PSP games.  Some alright games, actually, so if that's all your gaming budget allows for, go for it.
This has evolved into a pretty long blog post that probably no one will read, but hey, I'm just stoked with my $40 light meter, so I guess it doesn't matter.