Touchdown!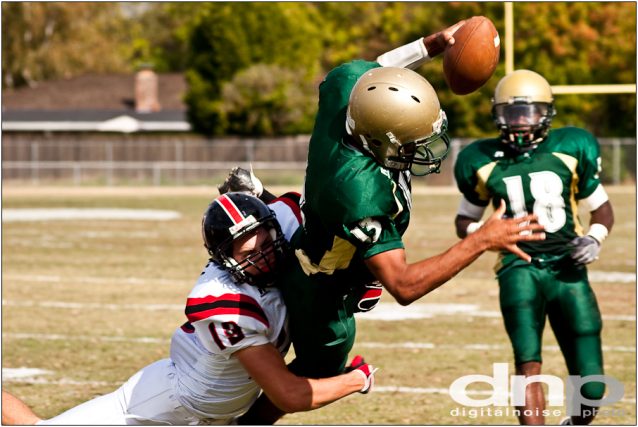 Back on October 24th, I shot a football game for one of the supervisors at work.  Her daughter, Jenna, is on the yearbook team for Rio Americano High School here in Sacramento, and so I agreed to shoot the games for her yearbook work after she saw the shoot for my supervisor's son's soccer game.  Now, I've never quite fashioned myself a sports photographer, but oddly enough, that's the two most recent jobs I've been approached with.  I'll definitely say it's fun and exciting, but I'm definitely feeling the need for some better gear on these jobs, and it's extremely challenging.
Although I did have a lot of fun at this game.  Again, first time shooting a football game, and definitely had a good learning experience.  Yet again very glad I picked up that monopod before the soccer game shoot–two events and it's already proven itself immensely useful.
I'll probably be posting more from these games as the next few weeks go on, just in an attempt to get back into a schedule of posting.  I have another shoot or two to edit and post as well, so we'll see what happens.
This particular shot is from the Junior Varsity team, with this player diving into the corner of the endzone for a touchdown.  I luckily had the foresight for whatever reason to run over to the end of the field on a hunch, and got a good shot or three.