New old cameras for the collection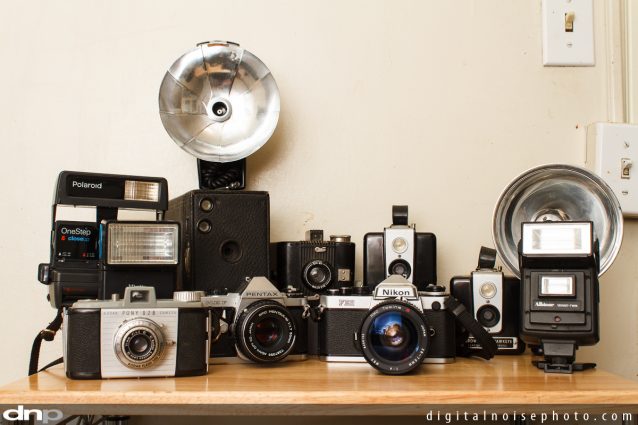 I went up to Redding last week to visit my parents for a few days, something I don't do often enough.  But it was a good trip, got a bunch of stuff accomplished for my mom as far as computer issues go, as is the usual.  So, there's that.
But she has also apparently been finding and stockpiling random camera gear for me to pick up whenever I make it up there.  She had a good amount of cool gear floating around, so I boxed it up and brought it back down to Sacramento with me.  I probably won't use most of it ever, but it's really cool vintage stuff, so it will go up on my wall o' old camera stuff.  I should probably take a photo of that when it's all added to what's up there already, but I digress.
Here's what's in the above photo:
Top from left to right: Run of the mill Polaroid with macro lens, Kodak No. 2 A Brownie Camera Model B, Walz FlashMaster portable flash perched on the Brownie, Kodak Six-20 Bull's Eye, Kodak Brownie Hawkeye Camera Flash Model without flash, and then the same camera with the Kodalite Flash Holder accessory
Front from left to right: Kodak Pony 828, Vivitar Auto Thyristor 3700 flash, Pentax ME F with Pentax-M 50mm f/1.7 lens, Nikon FE 2 with Tokina 28-70 f/4 lens, Albinar 100MDT-TWIN flash
Some interesting observations about this stuff…
The No. 2 A Brownie Camera Model B…  That thing is barely a camera.  It's patented in 1916, and is basically a box inside another box, with their joining ends without a side.  It takes 116 film, and there's probably absolutely no way to load this thing except in the dark.  Two oldschool prism-like viewfinders (if that's the right term for it, as I don't think they're ground glass), one on the top as a waist-level viewfinder, and one on the camera-right side, for being tripod-mounted.  They're tiny.  They're horrible.  You can barely see anything out of them.  This thing is so unusable by today's standards.  It's awesome.
The Walz FlashMaster is awesome because the reflector fans out in a circle for use, and then back into itself in something not much larger than a Nokia 3310, for example.  Useless as the flash voltage is possibly ridiculously high (and uses some sort of sync cord I don't believe I've seen), but a cool gadget.
The Six-20 appears to be made of Bakelite.  It's just a no-frills rangefinder-ish thing, but looks cool.
The Hawkeyes are cool little cameras.  Waist-level finders, and one has the flash in decent shape.  No bulb though.  Probably can't even find them or the batteries easily these days.
The Pony 828 looks like a cool little rangefinder, but seems to have massive problems (including a missing tripod mount, leaving a big hole into the chamber of the camera).  Unusable, but looks nice.
The Pentax looks really fancy.  REALLY fancy.  Has a bunch of auto modes and battery-assisted goodness.  Managed to fire off one test shot, but the shutters appear to be stuck.  Don't know what's going on there, don't have the patience to mess with it now.  Hopefully it's not stuck permanently like my old Yashica.  I'd really love to check out that 50mm f/1.7 Pentax-M lens.
The Nikon FE 2 looks pretty average for what it is, but has some auto features.  Not sure how great the lens is, but if it's a 28-70mm, it's probably pretty decent, even though it's only an f/4 lens.  There may or may not be film in there.  It's giving me an exposure count, so we'll see.
As far as the flashes go, the Albinar is nothing special.  Manual flashgun, probably no auto/TTL options.  But the Vivitar on the other hand…  That thing is friggin' LOADED.  Lots of settings and slider switches, even a TTL mode.  Even a beep setting!  I'll have to throw some batteries in this thing and see what it can do as an off-camera flash.  Unfortunately, it has the DM/N2 foot module, so it's Nikon TTL only.
I haven't looked up any of these to see if they're worth anything, although I have a feeling that if they were, my mom wouldn't have passed them along hehe.  But…  So, yeah.  New old gear to add to the wall, and maybe some viable 35mm film cameras to play around with alongside the Canon AutoEX passed down from my mom.  I don't mind shooting an old Nikon or Pentax if they work and produce good images.  😀